Happy New Year 2016!
-
January 1, 2016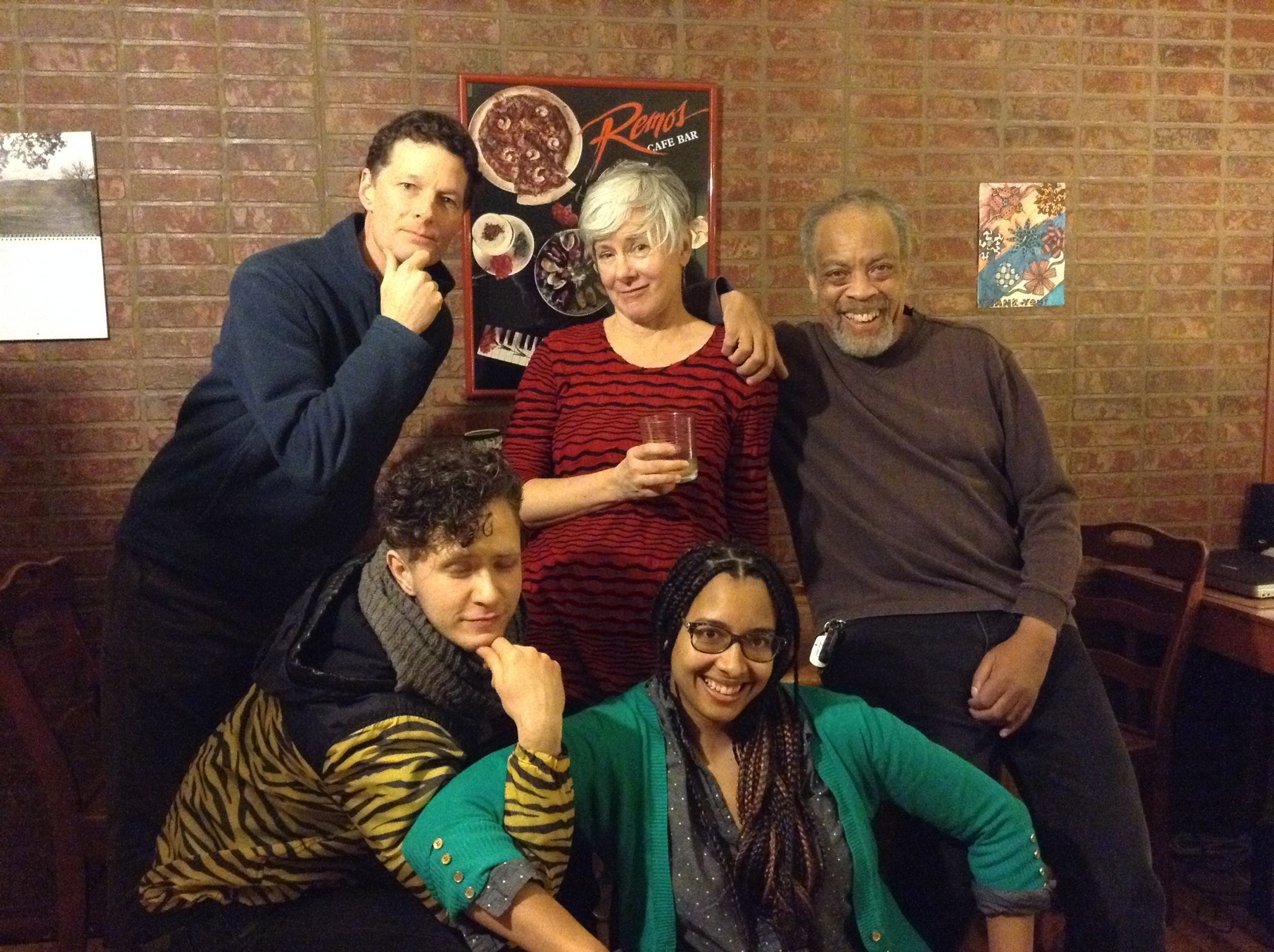 ARTB (clockwise): Whit Draper (strings), Susan Peck (keys, vocals, songs), Alan Alexander III (strings, keys, vocals, songs), Rihana Mungin (merch & tour support), Frankie Linderman (drums, vocals)
Happy New Year!
This web site and blog is now officially 8 years old. The first blog entry (still here) was posted in Jan 2008. The first ARTB gig was a year before that in March of 2007. Wow! Time flies when you're making music.
In 2007 and most of 2008 Alexander's Real Time Band was a solo act, just me singing my tunes while playing bass or guitar or dulcimer. Then in June of 2008 I met Sarah 'Frankie' Linderman. Frankie joined me on drums and ARTB became a duo. In 2009 Whit Draper jumped on board bringing excellent guitar and bass chops and we became a trio. Finally in the fall of 2010 singer, songwriter, pianist, Susan Peck, rounded things out and ARTB became the quartet that we have been for the last five years.
In that time we have done dozens performances in Portland. Frankie, Susan and I have also toured as a trio up and down the I-5 corridor, from the Bay Area to the San Juan Islands. That includes many highway miles singing together in the van and playing late night cards in some hotel room after the show. Great memories!
Composer, Arranger, Conductor, Pianist, Vocalist, Susan Peck
So its in a sad but congratulatory spirit the we say Bon Voyage to our dear sister Susan Peck as she moves to Albuquerque New Mexico. I cannot adequately express the gratitude I have for Susan as a creative partner, muse, confidant, bandmate and best friend over the last 5 years.
She has touched so many lives with her music during her time here in Oregon; performing with PDX Vox, Classical Revolution, as the Music Director for the United Church of Christ in Lake Oswego, as the Music Director for the Unitarian Universalist Church of Washington County, as the pianist in countless Opera recitals, with dozens of individual piano and voice students, and of course with Alexander's Real time Band.
But the folks in Albuquerque aggressively recruited Susan during a national search for a new music director. In the end, they made her an offer she couldn't refuse. So our loss is their gain. This is a great career opportunity for Susan and we are all very happy for her.
Still, we are going to miss her like crazy.
All is not lost however. Through the wonders of technology you will still be hearing Susan's voice or keyboards on future ARTB studio releases. So keep listening.
We love you dearly Speck. Namaste.